Since 1996, Bill Rock has been a prominent announcer for the NBC television network. Initially, as the promotional voice of NBC Nightly News, Weekend Nightly, Meet the Press, promo announcer for Dateline, Today, CNBC, and the voice of MSNBC, today is the voice of commercial billboard announcements in primetime on the NBC television network, including as being a regular voice on Saturday Night Live. He also narrated programs for CPTV, MSNBC, and Discovery Channel.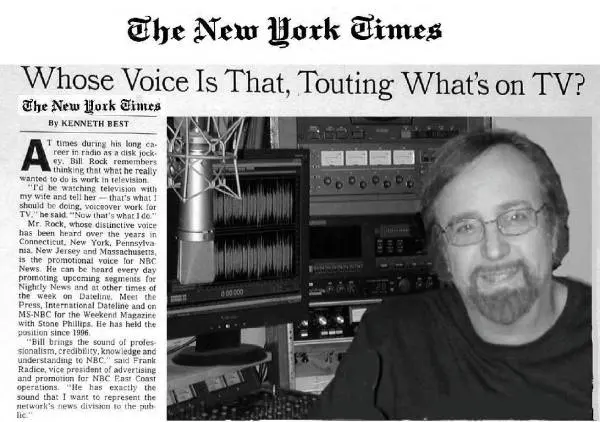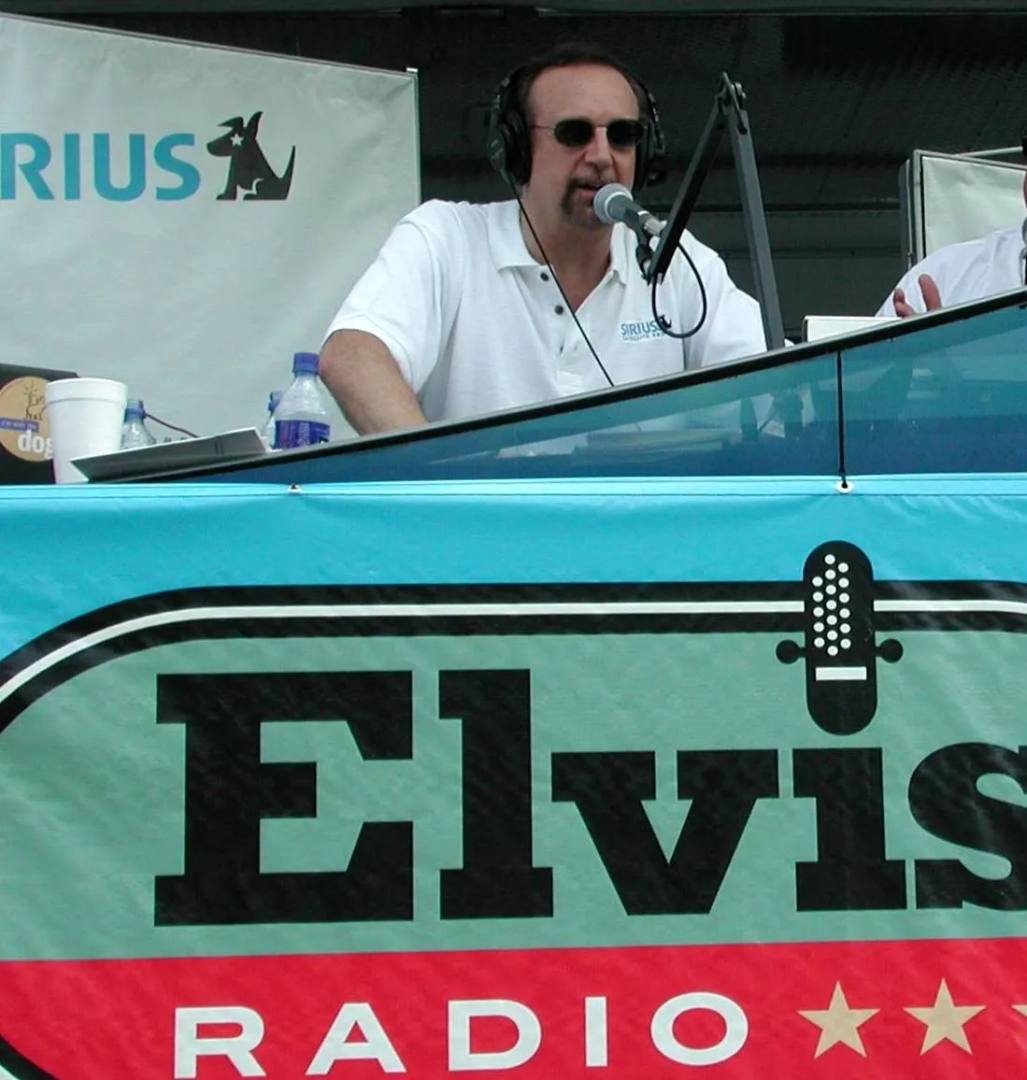 Starting in 2002, Bill has hosted for 4 channels on Sirius XM Radio Satellite Radio including afternoons on Channel 6, 60's vibrations, mornings on channel 5, Sirius Gold, the first host of Channel 61, Prime Country, and First voice ever on SXM's first one-artist dedicated channel, Elvis Radio inaugurated on the 50th Anniversary of Rock 'n Roll. For 18 years, he hosted Bill Rock's Saturday Night Elvis Memories and Soundtrack Saturday Night.
Bill has been an on-air radio personality since 1965 on WIXZ Pittsburgh, WIXY Cleveland and program director for WTRY Albany, WMEX Boston, WNBC New York, and WELI New Haven. In New York radio alone, he was an on-air personality at WWDJ, WNBC, WCBS-FM, and 16 years on WYNY-FM as host of the NY top-rated Saturday Night Country Club.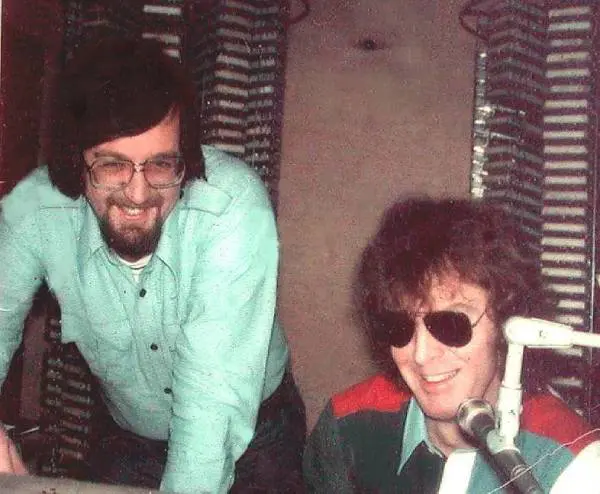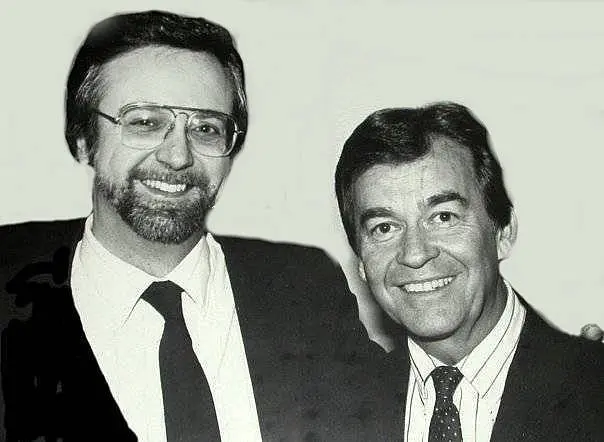 Rock was VP of radio programming for Insilco Broadcasting stations in Connecticut, Oklahoma, Miami, and New Orleans. As a voice talent, he has been a host or personality for Westwood One, Promedia, SFX, SJS, and Excelsior Radio and host of Motor City Beat and US Hall of fame on Dick Clark's United Stations and Unistar Radio Networks.
Rock has been promotional, commercial billboard, or host announcer for John Gambling, Ross Britain, Don Blue, Don Imus, Tom Brokaw, Tim Russert, Brian Williams, Stone Phillips, Katie Curic, and others as well as the imaging voice for WOR, WDRC-FM, KKLD, News 12 New Jersey, and Sirius XM.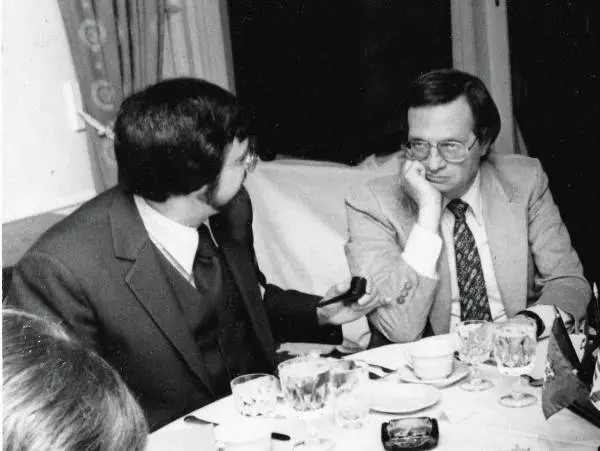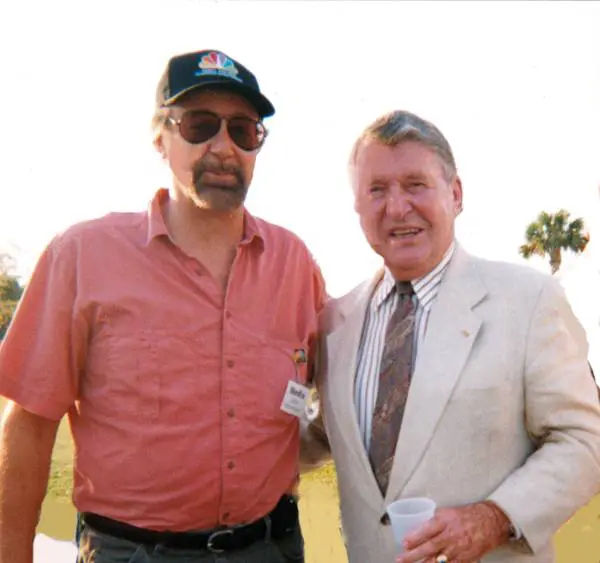 In1981, he established and became president of Bill Rock Productions Inc. His studio began producing local, regional, and national radio programs and commercials and eventually television shows. Bill Rock Productions produced numerous Fortune 500 corporate and human service nonprofit video presentations and television shows for CPTV. ESPN, nationally syndicated TV shows with segments for National Public Television and ABC-TV.
It was in 1984 that Bill Rock Productions produced its first television show, "Jeff Keith's Run across America." That TV program was followed by "Airshow," about sports aviation which aired on ESPN. Bill produced and co-hosted it. The program featured actor Cliff Robertson, the Navy's Blue Angels, and astronaut Wally Schirra.
The third was called "Big City Country" featuring Tanya Tucker, Eddie Rabbitt, Mark Colie, and many other country stars. More recently, he produced "Double Crossing the English Channel." It is the story of the oldest person in history to swim the English Channel both over and back in one continuous trip. (See TV page)
Recipient of a Silver Medal from The International TV and Film Festival as well as the MacEachern, Pinnacle, and Mercury Awards in addition to several Telly and Communicator awards, plus awards from tristate ad clubs. He is listed in Who's Who in Entertainment, America and the World, in 2021 received Who's Who's lifetime achievement award, and in 1998 was inducted into the WSOU and Seton Hall University Communications Hall of Fame.